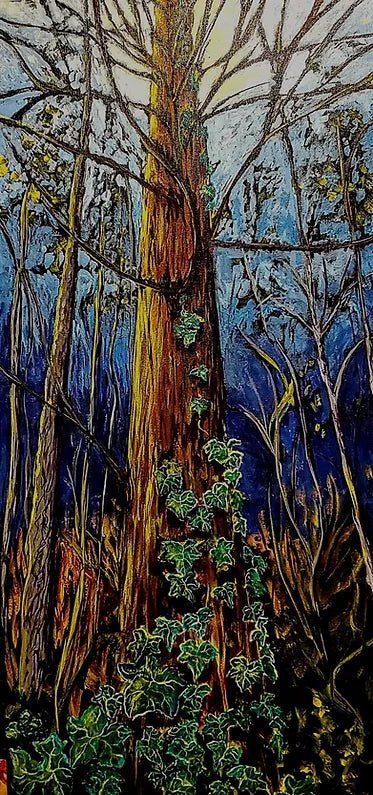 CELTIC TREE SERIES BY ARTIST TERRI CONNELLY
Welcome to my Celtic tree paintings series.
I am fascinated with the ancient philosophies of the Celtic culture. Learning how the Ogham alphabet was created, the Druid and Pagan philosophies of 22 and 13 period calendars, relationship to the full moon cycles, and after observation of people of when they were born, overtime how their key characteristics aligned with nature.
The inspiration to produce this tree series came to me in 2004 while I was working full-time and raising a family. In the years following I continued to study part-time, do my research and engage in many workshops to further my painting skills. In 2022, I made the decision to leave my corporate career and devote full-time to my art.
It has been a 9-month journey to create my series with carefully choosing colour palette, value and composition for each canvas, to showcase the individual tree in relationship to the human characteristics of the Celtic astrology.
I guess my true roots are coming out along with my pure appreciation for nature and wanting to preserve the gifts we have been given.
SEE SOMETHING YOU LIKE?
To purchase an art piece please feel free to contact us at:
Phone: 604.924.7718
Email: sales@keithjackstudio.com
Or see it in person by visiting the studio at:
21 Lonsdale Ave, North Vancouver, BC
If you are an artist interested in presenting your work to our gallery for consideration, please contact us by e-mail at:
and provide the following information:

1) Letter of Introduction
2) Artist Biography
3) Artist Statement
4) Contact details
5) Link to your web-site

or

In the absence of a web-site, please forward 10 JPG images. Please include the list of artworks' titles, medium, substrate, sizes and prices.

We will respond within 7 business days if we are interested in viewing more of your art or would like to set up an appointment.